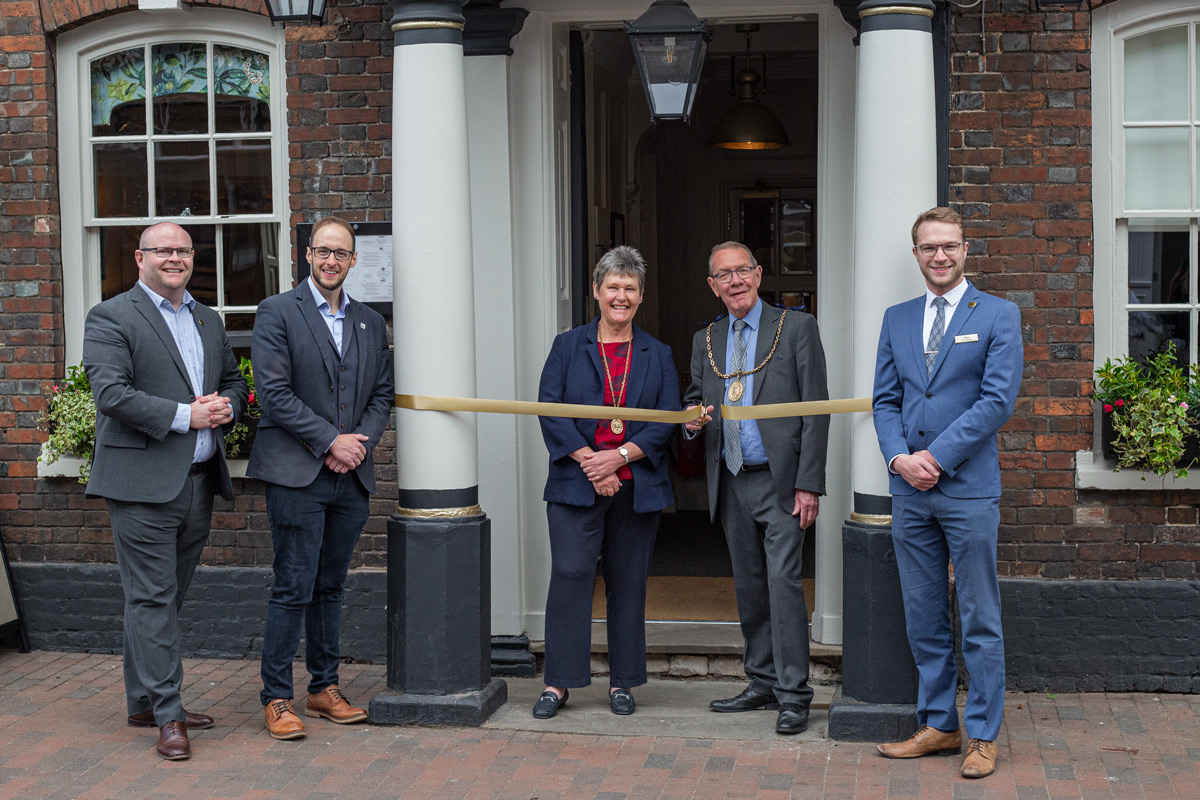 Godalming's Kings Arms & Royal Hotel, one of the most important historic buildings in the town, has taken on a new lease of life this as the result of our one million pound plus refurbishment which has also seen the creation of over forty new jobs.
The High Street property dating back to 1753 has been acquired by the Coaching Inn Group which already operates twenty-four other hotels and inns in market towns across the country.
It was officially reopened at 11am in a ribbon cutting ceremony performed by the Mayor of Godalming Councillor Michael Steel accompanied by his consort Mrs Jane Steel.
The refurbishment has seen the remodelling of all the public areas, including restaurant and bars, together with the upgrading of all the hotels bedrooms.
Group Chief Executive Officer Kevin Charity said "The Coaching Inn Group have expanded steadily over recent years and established an enviable reputation for the role its properties played at the very heart of the communities they served."
Last year the Coaching Inn Group, jumped from forty-four to twenty-one in the Top 100 Best Large Companies to Work For in 2021.
"We've become a very people focussed business over the past four years, just constantly refining our Hospitality from the Heart culture. We're focussed on looking at what we can do better and how we as a management team can serve our people – that's been the key," said Kevin
Anyone joining The Kings Arms & Royal team now had an excellent opportunity for advancement through the group's industry-leading and award-winning InnSpire program, which encouraged members to rise to the next stage by gaining hospitality industry qualifications, he said.
"We also have our Chefs Academy which again encourages all those in the kitchen teams to advance though seeking further qualifications and organises visits to market gardens, farms and our other quality food sources," said Kevin.
The group highly valued its enthusiastic team members, and its additional comprehensive programme of staff benefits was a token of its on-going appreciation, he said.
Take a look around The Kings Arms & Royal in this video:
Fancy a trip to Surrey? Book now at www.kingsarmsandroyal.co.uk/bedrooms