February half term isn't historically one of the sunniest school holidays to travel in, but Staffordshire offers some exciting activities which are great for families no matter the weather.
When it comes to choosing a great UK staycation destination, Staffordshire offers beautiful landscapes, friendly locals and of course plenty of different things to do.
Here are 5 of the very best things to do in Staffordshire in February half term.
1. Alton Towers
Alton Towers opened on 4th April 1980 and the theme park has been open each summer season for almost 40 years! Inspired by Disneyland, the modern version of the park was designed to be home to multiple, other-worldly locations, grounded in their proud English Heritage. The theme park opening at Alton Towers included the Corkscrew – Britain's first double loop rollercoaster – plus the Pirate Ship, Cine 2000 and the Wildlife Museum.
Alton Towers Resort is home to over 40 rides and attractions, for guests of all ages. Their 10 main rollercoasters are the stars of the show, each with record-breaking elements designed to thrill and delight anyone brave enough to ride. With 20 attractions aimed at young children and families, Alton Towers is the only place in the UK where you can meet some of CBeebies best loved characters.
2. Go Ape, Cannock Chase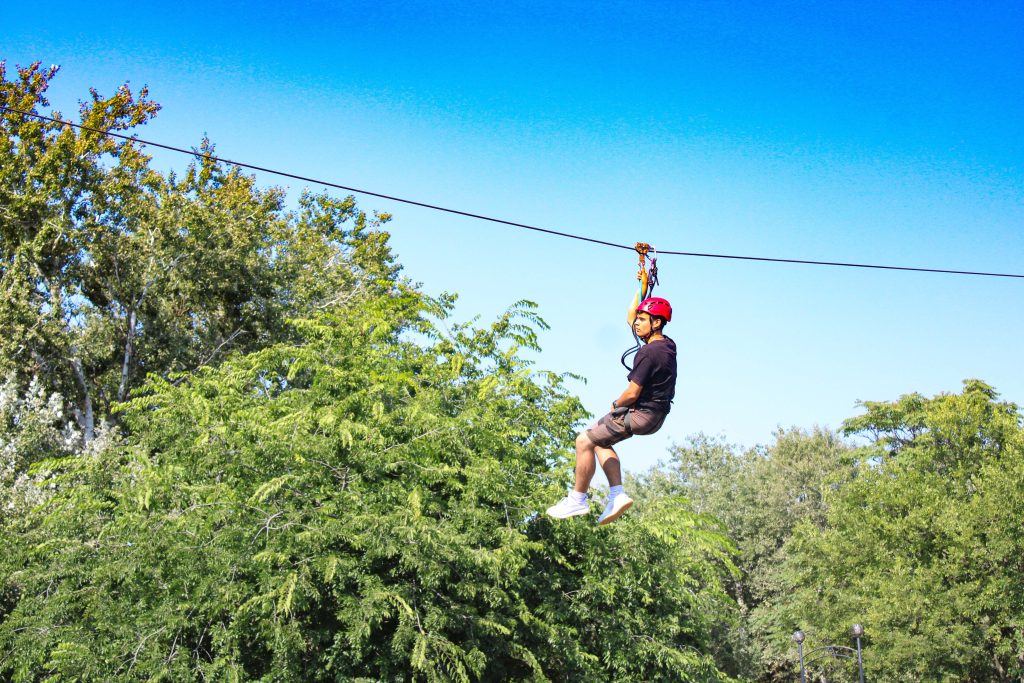 Go Ape Cannock Chase is an outdoor activity centre that hits all the fun and adventure buttons against a backdrop of stunning valley views. In an area of Outstanding Natural Beauty you'll find the longest combined crossing of any of the Go Ape location with nearly 1,500 metres of tree-to-tree crossings on their Challenge course. For the bigger monkeys, the Treetop Adventure course is ideal for children (and adults) to find their tree legs and build their climbing confidence. If you like to keep your feet firmly on the ground, then you can enjoy the breathtaking views from the comfort of one of our off-road Segways.
3. Trentham Monkey Forest
Trentham Monkey Forest is completely unique to the UK and is the only place that you can walk amongst 140 Barbary macaques roaming free in 60 acres of beautiful Staffordshire woodland. Walk, watch and be amazed as the endangered monkeys live as they would in the wild. Most visitors spend a few hours within the monkey enclosure and are free to re-enter as many times as they wish during their trip.
4. Shugborough Estate
The Shugborough Estate has been home to the Anson family since 1624 and was once described as 'a perfect paradise'. Visit this important piece of Staffordshire's heritage for a full day of discoveries. You can explore sweeping parkland peppered with monuments. See seasonal blooms in the formal gardens, or produce in the walled garden.
5. Amerton Farm
Amerton Farm is popular family attraction located in the peaceful Staffordshire countryside. There are many things to do on site for the whole family from an indoor play area, alpaca experience, working farm, food hall and much more. It's sure to provide a great day out for everyone.
Found the attraction to keep your family entertained this February half term? Complete your school holiday adventure with a stay at The Swan Hotel in Stafford. They offer a range of bedrooms perfect for families with a dedicated children's menu and something for parents to enjoy too. Book now at www.coachinginngroup.co.uk