---
Latest News
Find out what is going on


Kings Head becomes 10th group hotel
Kings Head becomes 10th group hotel
---
We're delighted to announce The Kings Head Hotel, Richmond as the first addition to the group of 2016. 
---
Previously owned by Ashdale Hotels, the 26-bedroom hotel first opened its doors in 1717, when it was built as a gentleman's townhouse. Nearly 300 years on, the hotel offers a blend of Georgian architecture with modern practicalities in the heart of the bustling market town of Richmond, North Yorkshire.
Founder and managing director of our group, Kevin Charity, said: "Over the past 12 months we have expanded The Coaching Inn Group by bringing four new hotels to our family of Coaching Inns."
He continued: "The Kings Head is a great example of what we do and the locations we are looking to expand into. Based in the heart of North Yorkshire, the Kings Head is a key venue in the town offering relaxed and comfortable surroundings for visitors and local residents alike. Working with the existing management team, we plan to invest in the Kings Head over the next 12 months. We'll be investing across accommodation, food and beverage, including the addition of our Eatery and Coffee House concept which continues to be very successful across the rest of our group."
We now have ten well-known hotels across Yorkshire, Leicestershire, Lincolnshire, Northamptonshire, Gloucestershire and Wales and will continue to built a strong reputation in the industry for transforming high quality coaching inns and revitalising their potential.
Valentines Day at Our Inns
Valentines Day at Our Inns
---
Our Inns all have something special to offer for the Valentines Weekend (Sat 13th & Sun 14th Feb) this year. Find the perfect surprise for your loved one below:
The White Hart Royal Hotel, Moreton in Marsh
A delightful seven course menu at the traditional White Hart Royal Hotel & Eatery in the Cotswolds. click here to view
The Talbot Hotel, Oundle
A delicious three course meal in the AA rosette restaurant available Saturday & Sunday, as well as accommodation deals. click here to view
The White Hart Hotel, Boston
A classy three course menu for £25 per person as well as accommodation deals for Saturday & Sunday Night. click here to view

The Three Swans Hotel, Market Harborough
details coming soon

The Admiral Rodney Hotel, Horncastle
details coming soon

The Old Bridge Hotel, Holmfirth
details coming soon
The Royal Oak Hotel, Welshpool
details coming soon

The Golden Fleece Hotel, Thirsk
details coming soon

The Feathers Hotel, Helmsley
details coming soon

Pub Company of the Year!
Pub Company of the Year!
---
Eat Out Magazine presented it's Eat Out Awards 2015 on 26th October, including awards for Restaurant Company of the Year and Pub Company of the Year.

We are delighted to announce that we were awarded 'Pub Company of the Year' award which recognises "the pub company that has achieved the most impressive annual increase, in terms of sales and bottom-line results, while also delivering on its growth targets and business improvement promises. The judges will be looking for evidence of transformation, and possibly turnaround, as well as new operational efficiencies, higher staff retention and engagement, internal promotions, successful investments in the business, venue upgrades and considerably improved future prospects."
Managing Director, Kevin Charity shared news of the award with staff this morning, saying: "Well done to everyone. This is down to everyone's hard work and dedication."
News of the award first broke on Twitter:
.@coachinnsuk takes pub company of the year #EatOutAwards2015@eatoutmag

— Eat Out Magazine (@eatoutmag) October 26, 2015
This was followed by many congratulations:
Well done @CoachingInnsUK!!!! https://t.co/2oHhqC8xSk

— Les Routiers Travel (@LesRoutiers) October 27, 2015
Congrats to our amazing clients @cabana_brasil and @CoachingInnsUK who have scooped awards tonight #EatOutAwards2015 #winning @eatoutmag

— MCG PR (@MCGPR) October 26, 2015
 

Huge congratulations too @CoachingInnsUK on winning pub company of the year,recognition for all your hard work.#EatOutAwards2015

— Commer House (@CommerHouse) October 26, 2015
 

@CoachingInnsUK @eatoutmag well done #EatOutAwards2015

— Victoria Andrews (@VickAndrews) October 26, 2015
 

— Zapper UK (@Zapper_UK) October 26, 2015
 You can see the full list of winners on the Eat Out Magazine Website
---
About Us
Group Information
Group History
Group History
---
The company was founded by Kevin Charity back in 1996, when it was named the Bulldog Pub Company.  From its formation of just one pub, it steadily grew to operate a portfolio of 23 different pub/leisure style businesses.  In 2007, the company made a decision to exit from its pub businesses and to focus purely on developing hotel/coaching inns, thus adding accommodation revenue to the business whilst still focusing heavily on food and beverage.  We now have 8 of these traditional coaching inns within the group and a strong desire to expand to double that number by the year 2020.  
The Company operates from its head office in Boston, Lincolnshire, providing business support to the sites including Payroll, HR and Training, Accounts, Purchasing, Marketing, Area Management, Maintenance and Refurbishment teams.  Current operational areas are in Lincolnshire, Yorkshire, Leicestershire, the Cotswolds, Northamptonshire and Powys, Wales. It is responsible for the employment of over 350 people.
You will find our coaching inns sitting proudly as the focal point in busy market towns.  We specialise in finding and developing often poorly run and underdeveloped sites, and then using our expertise to refurbish and improve on the operational development.
Hero of the moment
Hero of the moment
---
The 'Hero of the moment' reward is issued to the team member  who the manager believes should be nominated for giving something extra to the hotel, to colleagues or our guests. Therefore it can be given to any member of the hotel team no matter what their job role is. It's not simply an 'employee of the month' because it's bigger than that. It's given to the person who has chosen to make a difference. To be honest, the best days arrive from the feeling of when we have gone out of my way to give great service to guests or colleagues, it costs nothing but gives us great personnel reward.
---
Our Most Recent Hero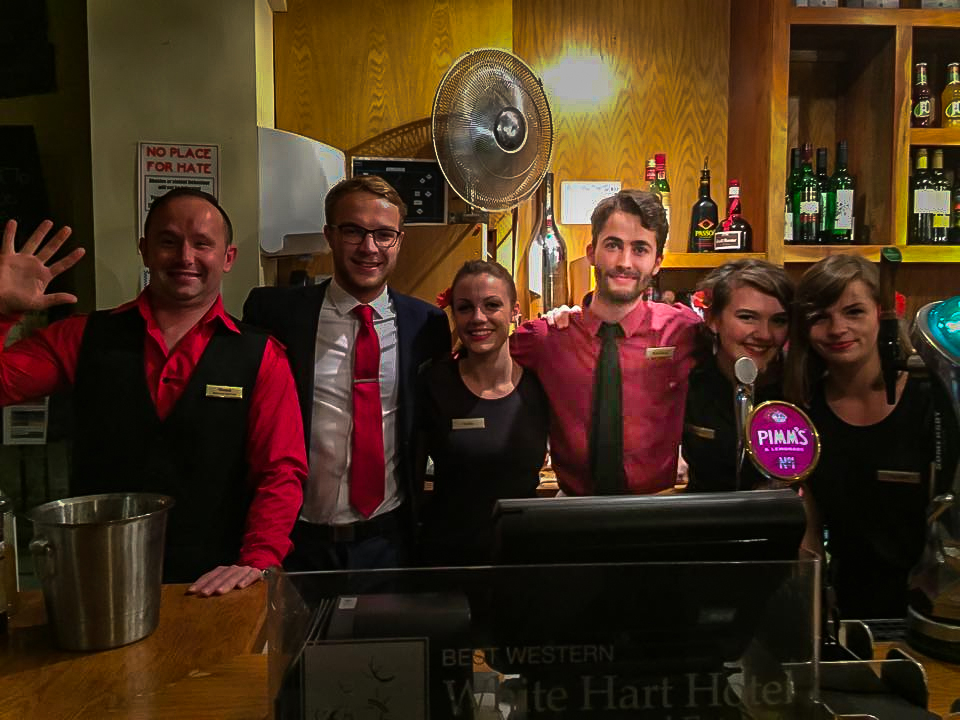 Basil Basil Fulton, Front of House, White Hart Hotel, Boston
"This month basil has been a star, covering extra shifts and working all of our busiest days without one complaint. He is always positive and never fails to lift spirits especially during this tough month.
I would also like to mention all of the team who have really done us proud contributing to a great month and christmas at the White hart, it was not easy to pick just one member of staff from everyone!"
Many thanks,
Dom and Adam